It is used for gas-containing beverage, such as Coca-Cola, Sprite, Fanta, etc.
It is washing filling and capping 3 in 1. It is suitable for all kinds of bottle types. It adopts suspension air conveyor. When change the bottle, it only needs to adjust the conveying width, which is faster and more stable. The machine adopts advanced PLC programming control system, and electrical components adopt internationally renowned brands. The design of the whole machine is scientific and reasonable, with high output and low failure rate.
Carbonated soft drink mixing system
It can improve the proportion of water, syrup and carbon dioxide. It is used in carbonated beverage production line and sparkling wine. It is used to cooling the water before mixing which is connected with the mixer.

3 in 1 washing filling and capping machine
* It is mainly used for carbon dioxide drink, such as cola, soda water and so on. 0~5℃ filling, isobaric filling.
* Host adopt advanced PLC automatic control technology, the key electrical components from famous company such as Japan's Mitsubishi, France Schneider, OMRON.
PET bottle warmer
It is used to warm the carbonated drink bottle after low temperature filling, as the carbonated drink after filling, its bottle touch the outside air, it will has a lot small water drops outside, use this machine will warmer it to normal temperature, and after dryer machine, it will be good for labeling.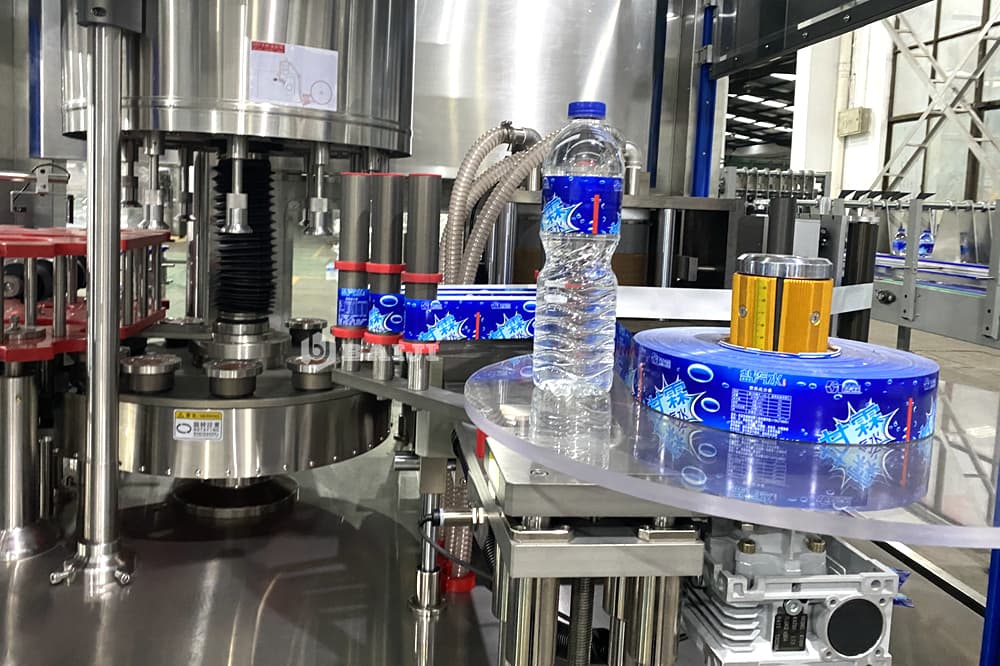 Automatic OPP hot glue labeling machine
Infeed bottle → pre-position → label cutting → gluing → labeling→ label by press out → finish
We have various kinds of options, like PVC sleeve label, OPP hot glue label, adhesive stick label, cold glue paper label and so on.
Automatic PE film wrapping machine
To pack several bottles into one package, make it easier for delivery.
You can decide 24 bottles one package, 12 bottles one package, etc. It is changeable.
Model

DCGF14-12-5

DCGF18-18-6

DCGF24-24-8

DCGF32-32-10

Capacity (500ml)

2000BPH

4000BPH

6000BPH

8000BPH

Filling temperature

0-5℃ isobaric filling

Volume

200ml-2000ml PET bottle

Total power

4.4

5.2

6.2

6.2

Overall dimensions

2250*1650*2250

2600*1965*2250

2980*2200*2250

3880*2200*2250

Weight (kg)

2500

3500

4500

6000
Baiji machinery can help you design factory layout, bottle shape, label, etc.